If you are using Internet Explorer to view this site, please use another browser for optimal viewing.
Please share this page with these links to Facebook, Twitter, LinkedIn and Email: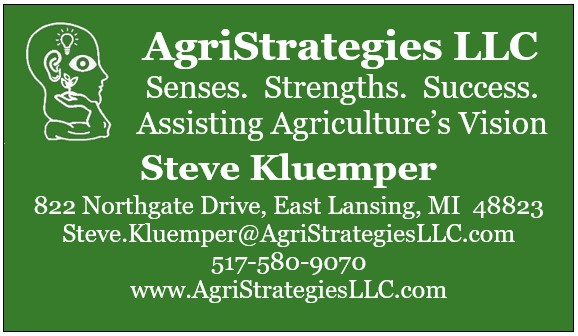 AgriStrategies knows what lenders want and helps you position your business to attract capital in a timely and cost-effective manner.
AgriStrategies assists your business in communicating with your lenders in a way that reduces the questions they have, the time it takes them to answer your requests and the costs involved in working with your business which improves your profitability and your lenders' profitability.
AgriStrategies improves the quality of the financial management of your business so that your profits improve, your compliance with your lenders' requirements are met and your lenders' risks, interest rates and fees are reduced.
AgriStrategies projects future cash flows under various scenarios and builds a plan that addresses the funding needs for each of those scenarios which minimizes uncomfortable surprises for you and your lenders.
AgriStrategies analyzes your business decisions and communicates the rationale for those decisions to, and incorporates feedback from, all stakeholders including the owners, investors, managers, coaches, employees, lenders, regulators, customers, suppliers, and community members to improve the probability of success and acceptance of the decisions.
AgriStrategies is a third-party, independent, advisor that will bring great perspectives and assistance to your management team on an ongoing basis and help your lenders better understand your business and your industry.
AgriStrategies focuses on defining success, assessing strengths, and then leveraging those strengths to achieve success with a plan that shows lenders the potential of your business.