If you are using Internet Explorer to view this site, please use another browser for optimal viewing.
Please share this page with these links to Facebook, Twitter, LinkedIn and Email: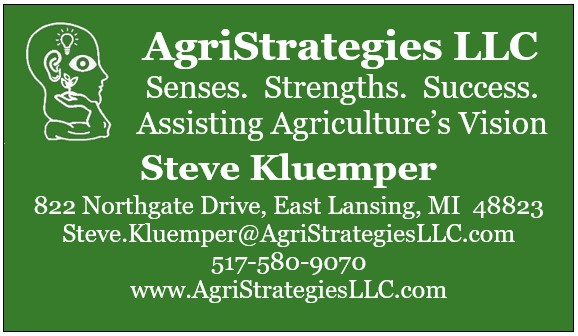 Hello! My name is Steve Kluemper. I'm glad you stopped by. AgriStrategies LLC is proud to be a part of this MABA 2021 Virtual Winter Conference. I'm here because I can help you, and your customers and suppliers in the agricultural industry supply chain, with financial management tasks. As you know, a supply chain is only as good as its weakest link. Where do you see the weakest link in your supply chain, from a financial management perspective? Is it you? Your customers? Your suppliers? I hope you will reach out to me, so we can have this discussion.
Examples of what I can help with by bringing my 30 years of, financial management and ag banking, experience and perspectives, include improving cash flow and profitability, putting together a projection, communicating a business plan, restructuring a balance sheet, getting an existing lender or a new lender or a credit manager comfortable with a credit request and analyzing decisions that need to be made, etc.
If you are in ag retail, I can not only help your business, but I can help you help your farmer customers, to make them more successful down the road, so that you make more sales and most importantly, turn those sales into cash in your bank account. Please contact me so we can discuss how I might be able to help you!
The same goes if you are processing or marketing agricultural products that you are receiving from your farmers. I can help you help your farmers with their financial management to strengthen and grow your supply chain with viable farm operations. Please contact me so we can discuss how I might be able to help you!
Lastly, if you are a producer or know of a producer that might need some help with their financial management, I would very much like to talk to you to see how I can help.
So, please contact me now with one of the many ways that are available to you at this virtual booth. I look forward to our discussion and hope you have a great conference! Thank you!
Steve Kluemper
517-580-9070
https://agristrategiesllc.com/contact-me/
Resource Links:
AgriStrategies LLC Steve Kluemper Bio Post Date: May 15, 2020
What Questions Can AgriStrategies LLC Help Answer For Your Business? by Steve Kluemper Post Date: May 26, 2020
Why Do Your Lenders Want You To Work With AgriStrategies LLC? by Steve Kluemper Post Date: May 28, 2020
What Typical Steps Are Involved In Working With AgriStrategies LLC? by Steve Kluemper Post Date: May 28, 2020
How Can AgriStrategies LLC Help Agricultural Suppliers Grow Their Business? by Steve Kluemper Post Date: May 29, 2020
How Can AgriStrategies LLC Help Agricultural Suppliers Manage Their Credit Risk? by Steve Kluemper Post Date:May 29, 2020
How Can AgriStrategies LLC Help Agricultural Processors And Marketers Build A Stronger Supply Chain? by Steve Kluemper Post Date: May 29, 2020
How Can AgriStrategies LLC Help Your Business Assess What Happened In 2020 And Plan For 2021? by Steve Kluemper Post Date: December 19, 2020